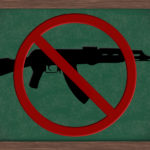 Since the shooting at Marjorie Stoneman Douglas High School in Parkland, Florida this month, I have been once again thinking about how school shootings have become a tragic and all too common event in this country. I have avoided this discussion in a wider forum because the issues are complex and emotionally charged for people. To say nothing is to accept this as the new normal and to dishonor all the children and school personnel murdered and the lives destroyed by this senseless violence.
When my son was four years old, we moved to the North Shore of Chicago. On a beautiful May morning in 1988, the two of us went for a walk in Winnetka, very close to where we lived. This was a time before cell phones announced tragedy or communicated immediate information. In this normally tranquil town where we stood in line waiting to buy a cookie at a bakery, the sounds of sirens filled the air, a helicopter circled over-head; something felt wrong. I told my son that rather than play at the park, we would go home. Once at home, I turned on the television to find the news that there had been a shooting at Hubbard Woods School. Children had been injured and perhaps killed. The shooter, a young woman from the nearby suburb and babysitter to many children had taken hostages in a house less than a mile from ours. I shielded my son from this news as I absorbed the idea that someone would and could walk into a school and kill innocent children. That afternoon the neighborhood was as silent as a tomb, everyone locked inside and stunned.
Later that day, the news of second grader Nicholas Corwin's death was announced, along with other injuries. I couldn't breathe when I thought of this event. I couldn't imagine losing my son at all but to be shot in school seemed a violation of a basic tenet of life. It had until that time never occurred to me that my son, or any child, could be murdered at school, the victim of random violence. We lived in a safe neighborhood, protected from this possibility, or so we believed.
As the years passed following the Laurie Dann shooting, I persuaded myself that this was an exceedingly rare tragedy. Children should go to school and will be safe. My son did, and he was safe, but the notion that at any moment that would change was ever present.
Several years after that shooting I returned to law practice and opened an office focusing on representing children and teens with mental health issues and other disorders. Many of my clients were idiosyncratic and suffering from mental health challenges that made school and life a challenge. Four years after I started my practice, on April 20,1999, the shootings at Columbine High School occurred. The Columbine shooting changed my practice and for the next two years, any student who was different, wearing a black trench coat or appearing a little odd, was met with suspicion. Schools requested evaluations, placed students in alternative schools and over-reacted in many instances to students who were not in the mainstream. No school wanted to be accused of failing to investigate a potential school shooter. Security tightened in school buildings, particularly high schools. Metal detectors were installed in some schools, and the presence of security guards and police assigned to schools increased.
Then the Sandy Hook massacre occurred. This was followed by an outcry by school personnel, gun control advocates or their opponents, accompanied by anguished parents begging for this to stop, generating a conversation that yielded nothing but inaction by our legislatures who are more invested in the gun lobby than the lives of children. At the end of the day, twenty- six people were killed at the school, twenty of them children.
As part of my work, I am in schools several times a week. Following Sandy Hook, bullet proof entrances to elementary and middle schools were built. Security tightened. These efforts are not enough. They may provide an illusion of security but these measures aren't addressing the underlying issues around school shootings and they will not stop these events from occurring again and again. There have been over One Hundred school shootings since Columbine. This number should and does shock me to the core. No one should view this as a given in this country.
The carnage continues. There is no sustained effort to stop this slaughter, to make schools a place of refuge rather than fear. We must do something and this is possible.
All of us should stand with the students on March 14th for the National School Walkout,  and on March 24th for the March For Our Lives to demand action on this issue.
March For Our Lives on Facebook
Share on Facebook